National Online Counselling Services
Online counselling works the same as traditional face-to-face counselling, the only difference is that appointments happen through your computer, tablet or smart phone.
Also, online counselling can be more effective as it is provided in a place that can be more comfortable and more convenient for you
e.g. your own home, office, while walking, in your car, etc!
Most noteworthy, Helplink's professional, qualified, insured and Garda vetted counsellors are available at times to suit you; 
7 days a week and out-of-hours.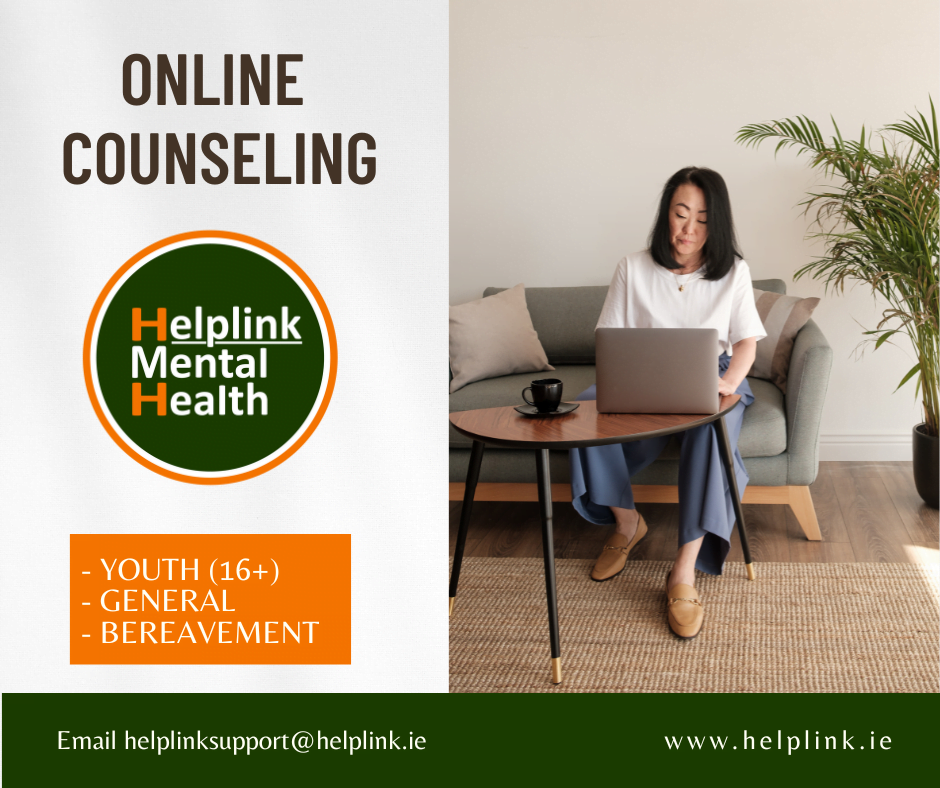 Helplink Online Counselling Services 
General Counselling
Bereavement Counselling
Youth Counselling
Couples Counselling
Addiction Counselling
Youth Addiction Counselling
Online counselling allows you to connect with yourself and others regardless of where you may be in the world.
All of our counsellors are qualified, insured, Garda vetted and they undergo extra training in providing counselling online.
Issues that our counsellors can help with:
Feeling unhappy

Anxiety

Stress

Low mood

Confidence

Self esteem

Anger issues

Addiction problems

Lacking in Confidence

Eating problems

Bullying

Bereavement

Sleeping issues
---
Appointment Opening Hours

:
9 am to 9 pm Monday to Friday

12 to 6 pm Saturday and Sunday

(Closed on Bank Holidays and Christmas/New Year's Eve).
Note: administration are available to schedule appointments 9 to 5 Monday to Friday.
---
Fees

:
Discounted Fees: for general, addiction or bereavement counselling appointments are €30:
a full-time (third level) student
a part-time counselling student
a part-time worker (working less then 20 hours a week),
a single parent
in receipt of a social protection payments (e.g. Jobseeker's Benefit/Allowance, Disability Benefit etc.) 

 
Note: you must provide evidence of your status to avail of this fee. Other specialised counselling/therapeutic services fees may vary.
Employed Persons Fee: as a non-profit social enterprise we try to keep the fees for appointments as low as possible. For employed people the cost for a general, addiction or bereavement counselling appointment is €65 (Couples counselling appointments are €80).
Note: For young people (under the age of 18), the appointment price is determined by which category their parents and/or guardians fall into.
* If you want to cancel or postpone your session you must do so 48 hours in advance. Consequently, a cancellation fee may apply.
Phenomenal counselling service and offers part time workers/students an amazing discounted rate. Eva is an amazing counsellor. I genuinely do not have words for how good Eva is at her job, and how genuine she is with her clients. I always felt so comfortable to show up as any version of myself to the sessions, and this is the most in control I've ever felt with my mental health due to all of her help. Thank you all.
Natalie was kind, empathetic and helped me navigate a difficult time in my life. She was flexible when appointment times had to be changed and was always very organised for our sessions. I can't thank her enough for her support and work we did together.
Eva is a wonderful online counsellor and I'm so glad that she was my counsellor, she totally understood me from the start and listened to me and most importantly heard me, I was going through a very difficult time in my life and was in a very emotional painful place, at the time I sought counselling, I feel Eva helped me understand myself and helped me to see the bigger picture and its been very worthwhile for my mental and emotional well being
Natalie was excellent. Always easy to talk with, kind, encouraging and gave great advice and helpful worksheets. I'd like to think I'd go back to her again if ever I need to.
Clodagh provided a safe virtual space for me to explore my current feelings and past experiences.
I greatly benefited from her gentle but practical approach and left the sessions feeling listened to, and armed with easy-to-implement exercises that made a big difference in my everyday.
I really value this service and I'm very grateful for the support that Clodagh gave me.
FINAL NOTE: We do not provide a crisis service. People seriously contemplating suicide or in need of immediate help should go to their local A&E. Dial 999 for assistance.