This global service provides culturally sensitive counselling support to Irish citizens living abroad
and returning home from living abroad with their emotional support needs; 7 days a week!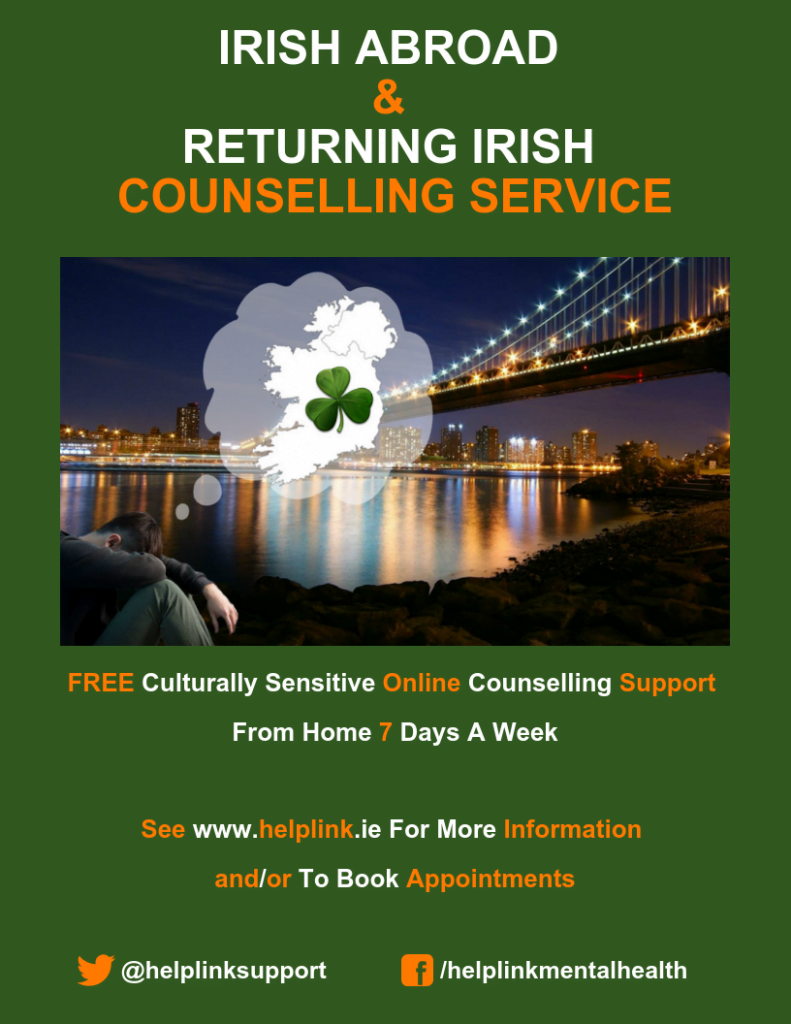 Since 2016 our Irish based, Garda vetted Counsellors have been providing culturally sensitive support to the Irish abroad, that have been experiencing the following: bullying, depression, loneliness, transitional stress and anxiety, displacement, self-esteem issues; etc.
We have supported Irish citizens in

33 countries

(58 cities) globally

! 
From listening to the needs of our clients' through their stories and analysing current and previous research, we have found that Diaspora (emigrants) are very unlikely to make use of counselling services in their adopted country of residence. Those who attempt to engage report barriers experienced with culturally unaware counsellors making the counselling process more difficult among other aspects.
This is a free service for Irish citizens living abroad and now, since 2019, Irish citizens can also avail of the service when they are returning to Ireland. For Irish returning emigrants they can self-refer directly to us or they can also go through our referral partners Crosscare Migrant Project, Safe Home Ireland and the Irish Council for Prisoners Overseas – click on the links to go to their websites.
---
Testimonials

I found Debbie to be super reassuring and kind, I always looked forward to our sessions. There was a clear progression in terms of her confidence which made sense as I learned I was her first client. She quickly seemed to learn the ropes and had a great aptitude for the job, she's definitely made for it. I was sad we couldn't work together longer and I know she'll go from strength to strength and I wish her the best of luck!
Mark was an excellent counsellor and very professional.
He always accommodated my schedule and was polite. His sessions really helped me see and think cleary and
helped me to focus on the positives. He also managed to help me break down my problems and find solutions.
The worksheets and tools he gave me really helped with my decision-making and
thinking skills. Thanks so much, Mark! I am sure he will continue to do great work in this field 🙂
Thank you so much for organizing the Irish Abroad counselling sessions with Mark. I am incredibly grateful! 
These sessions have been so instrumental in helping me deal with the isolation and struggles of living abroad as well as with life in general. 
Mark is such a great listener and I feel that he really cares. He has been helping me to see that I have the tools to help myself. It means so much just feeling though my thoughts and feelings heard and validated. 
While there are still some very tough times, I'm getting more hopeful that life will get better, no, is getting better! 
This service is a lifeline. 
The support I received from your Irish Abroad service has been greatly appreciated, much valued and had it not been freely available to me through your service I would not have been in a position to be supported otherwise. For this I am sending my deep thanks to the team, funders and those who donate their funds and time to this service. This is an invaluable service and particularly important for individuals like me who are abroad. To benefit from support from a professional who has a context of Irish culture, society, beliefs can give focused and nuanced support that would not otherwise be available.
I recently finished my 6 counselling sessions with this service and just want to express my sincere gratitude for this service. Emma Tynan provided excellent support and I found the service very helpful as I navigate the emotional aspects of emigration. I emigrated to Canada over 6 years ago and found that many local support forums for Irish emigrants focus on the logistical and practical aspects of emigration but not the impact on mental health. So I'm very happy to see that this service is provided by your organisation and supported by the Irish government. Please pass on my sincere gratitude to all your team and project partners.
I was going through a very difficult time in my life. Things were falling apart for me and I needed help. Through the hard work and dedication of this team I managed to get myself back together again. I met an amazing person who didn't judge me but instead offered a listen ear and very good advice. I felt these people genuinely wanted to help me and cared a great deal about my life. I will be forever in their debt as they were that helping hand which I so badly needed. Things don't always work out as planned but for now the future seems that bit brighter
Want to book an appointment

?
People are free self refer by going to the contact page on this website and emailing us with your name and location.
You can also be referred through any Irish support organisation, Irish Embassy and/or Consulate.
If you want to know more about booking and this service, click here to go to our 'Frequently Asked Questions (FAQs) page' 
---
Please donate to help us to

continue to bring this

free

service to Irish citizens that are abroad or

returning

 home
---
Please note

:

this is NOT
a crisis support service
If you or someone you know is seriously contemplating suicide or in need of immediate help you/they should:
Click here to see a list of helplines across Australia or you/they should go to their local A&E; or Dial '000' for emergency assistance in Australia.
There are also Irish Support groups in Australia, please click here and scroll to the heading 'Support groups for Irish in Australia' for more information.

Click here

to see a list of crisis centers and contact numbers across Canada or you/they should go to their local A&E; or Dial '911' for emergency assistance in Canada.

Click here

to see a list of crisis centers and contact numbers across the U.S.A or you/they should go to their local A&E; or Dial '911' for emergency assistance in the U.S.A.
Rest of the world:
Click here

for a list of individual countries' crisis hotlines.

Click here

for a list of individual countries' crisis services.
Or if you/they would like to contact the Irish Samaritans click here as their email contact system works worldwide.