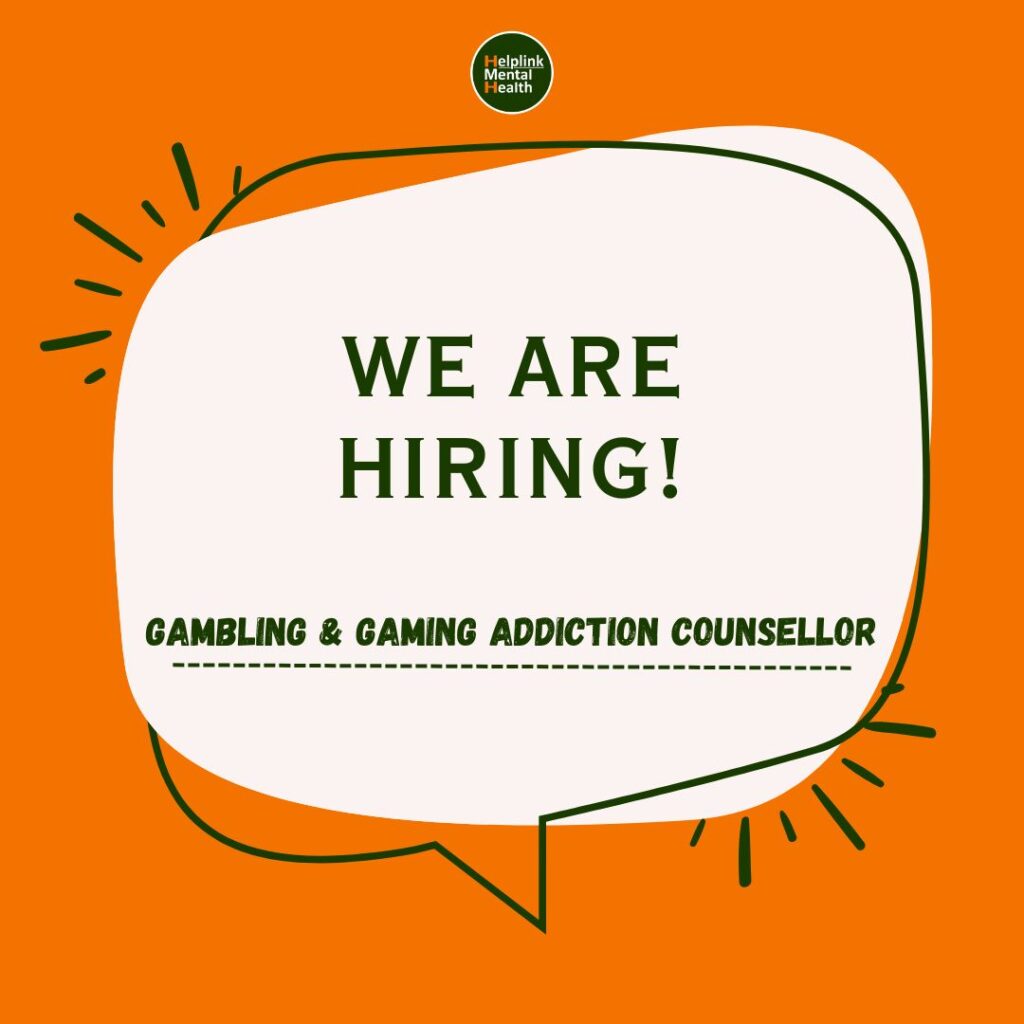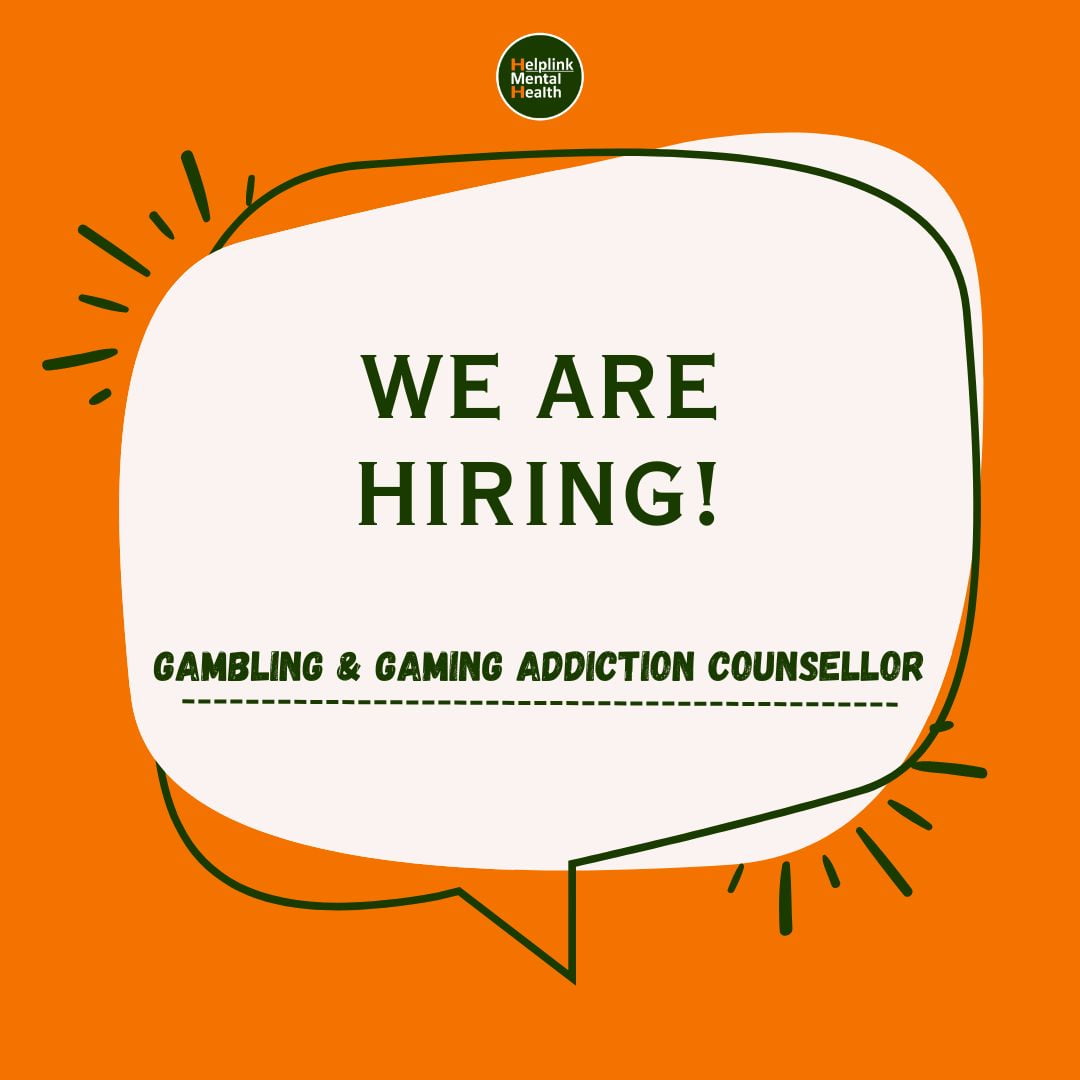 Job Description: Gambling & Gaming Addiction Counsellor
Helplink Mental Health has partnered with the HSE National Social Inclusion Office (NSIO) to pilot a treatment programme for adults and adolescents (16+) experiencing difficulties with Gambling and Gaming over an initial 12-month period in HSE area CHO2 (Galway, Mayo and Roscommon). Therefore, we are recruiting 2 part-time Gambling & Gaming Addiction Counsellors.
Job Overview
A part-time employed Gambling and Gaming Addiction counsellor position, providing gambling and gaming addiction counselling services to young people (over 16) and adults.
Responsibilities and Duties
Provide in person and online addiction counselling services to assigned clients.
Follow Helplink's protocols and policies.
Ensure complete client confidentiality is followed at all times, in line with Helplink policies.
Maintaining the highest standards of professionalism.
Screening/Assessment of new Gambling and Gaming addiction clients.
Provide support and advice to Administrative team with client issues when required.
Maintain clear, clinical and confidential client records.
Provide short-term clinical interventions such as CBT, motivational interviewing, brief solution-focused techniques and other interventions as required.
Facilitate Aftercare Groups.
Participate and provide feedback in the ongoing evaluation of the HSE-Helplink Gambling Addiction Pilot Programme.
Demonstrate excellent listening, communication, decision-making and assessment skills.
Demonstrate great warmth and the ability to empathise.
Ability to work with clients from a range of backgrounds and with a variety of mental health symptoms.
Develop clear and concise treatment plans for clients
Always keep up to date with best practice and procedures in line with the Code of Ethics of the accreditation body of which you are a member.
Participate in policy and procedure review and development to ensure high quality service delivery to Helplink clients.
Attend staff meetings as required
Requirements
Minimum Level 8 Degree in Counselling, Psychotherapy, or related subject – ideally Addiction Counselling.
Accreditation with Addiction Counsellors of Ireland (ACI).
At least 2 years client work experience in an addiction service or similar setting.
Clear understanding of the complex nature of gambling/gaming addiction, encompassing its antecedents, manifestations and social implications.
Knowledge and experience in a wide range of contemporary gambling-centric evidence-based intervention strategies and treatment approaches.
Working knowledge of Biopsychosocial model of addiction treatment and the 12-step programme.
Proven Experience/Training in best-practice, evidence-based therapeutic approaches for Gambling and Gaming Addiction including: CBT, Motivational Interviewing, Reality Therapy and other solution focussed brief therapies
Experience facilitating Aftercare groups.
Demonstrate a commitment to ongoing CPD Training, particularly in the area of Gambling Addiction.
Professional Indemnity Insurance.
Must be regularly attending supervision.
IT Proficiency.
Excellent communication skills.
Patience and a calm manner.
Ability to relate to a wide range of people.
Flexibility in working time availability – as our organisation's mission is to provide accessible services 7 days a week and out-of-hours. The successful applicant will be required to be available at least one evening per week.
Desirable
Has completed or is currently engaged in Post Graduate specialist Gambling Training, e.g Certificate in Gambling Addiction at MTU (previously IT Tralee).
Training/Experience in Mental Health Screening/Assessment procedures.
Benefits
Free monthly group supervision
2 free CPD events per year
EAP counselling service
HOURS: Part-time Employed: 25 hours (including up to 20 client contact hours)
SALARY: €32,500 gross annual salary
CONTRACT LENGTH: 12-month Fixed Term Contract
LOCATION: Main working location where possible is Galway City (and/or our Mayo office). Depending on client need, sessions may also be provided in person in Castlebar and Roscommon
REMOTE WORKING: only when providing online counselling


TO APPLY FOR THIS ROLE:
Please submit your application form at the link below:
https://forms.office.com/e/G6Re4K1mN4


Applications will only be accepted via the form above.
Shortlisted candidates will be invited to an interview.
For queries about this role, please contact laura@helplink.ie